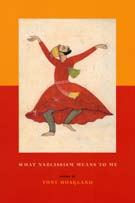 Tony Hoagland's third book of poetry,
What Narcissism Means to Me
, has been sitting on my shelf since I purchased a signed copy following his reading at the AWP conference in Austin back in 2005. Three years later, I couldn't recall any of the specific poems he read, but remember enjoying them quite a bit live.
After reading the collection of nearly 40 poems divided into 4 sections -- America, Social Life, Blues, Luck -- I can see why I enjoyed the reading so much, and yet must say too that the book at first lacked the punch I expected. That's not to say I didn't enjoy many of the poems, but it took me a while to get into them; they're a fair bit different, more conversational if you will, than much of the poetry I generally read. And that's a good thing, because right now (and always?) I'm looking to broaden my poetry horizons. But until the last two poems of the first section, I wasn't convinced by Hoagland's style or the book. After that, though, things moved along at a better clip, if not a stronger quip.
Hoagland's style is represented in the first two lines (the first stanza) of "Parade," the first poem in the collection that really struck a chord for me:
Peter says if you're going to talk about suffering
you have to mention pleasure too.
One of my favorites is "Windchime," which after my on-the-page reading I recall from Hoagland's reading in Austin. It seems fitting to end this micro review with that full poem: and my endorsement for the book, for whatever that's worth:
Windchime
She goes out to hang the windchime
in her nightie and her work boots.
It's six-thirty in the morning
and she's standing on the plastic ice chest
tiptoe to reach the crossbeam of the porch,
windchime in her left hand,
hammer in her right, the nail
gripped tight between her teeth
but nothing happens next because
she's trying to figure out
how to switch #1 with #3.
She must have been standing in the kitchen,
coffee in her hand, asleep,
when she heard it--the wind blowing
through the sound the windchime
wasn't making
becuase it wasn't there.
No one, including me, especially anymore believes
till death do us part,
but I can see what I would miss in leaving--
the way her ankles go into the work boots
as she stands upon the ice chest;
the problem scrunched into her forehead;
the little kissable mouth
with the nail in it.